The Kitchen: Heart of the Home
The kitchen is the center and focal point of almost every home — it is where your friends and family gather to prepare meals, share drinks, and spend long hours in conversation. You may have noticed that your kitchen isn't currently living up to the full potential that you see it has. A large percentage of your kitchen is occupied by cabinet space, which means the form and function of your cabinets can have a major impact on the effectiveness of your kitchen space. Fiberpol would like to explore some options with you for how we can help you optimize your cabinets with a kitchen remodel here in Barbados!
Cabinetry Upgrades
Fiberpol has been serving Barbados for several years now, offering professional, friendly, and affordable kitchen remodeling services. When it comes to kitchen cabinets, we're experts! Here are a few of the design options for you to consider when it comes to making your kitchen cabinets work for you, rather than hinder your creative social space.
Update Your Color Design
Changing the color of your cabinets is one of the simplest, most effective methods for brightening up your kitchen. Consider even including more than one color in your design for either the top or bottom cabinets, or for the cabinets on your island space. There is a lot of potential for interesting color combinations or contrasting hues, making your kitchen space alluring and aesthetically pleasing! We can help you come up with color palettes that work well for your space based on your individual desires.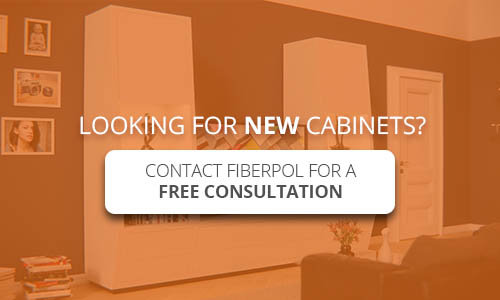 Add Accent Lighting
When you get creative with your lighting, you can completely alter the atmosphere of your kitchen. Installing lighting under or over your cabinets can make your kitchen literally glow, and provide ample lighting for all of your meal prepping, drink mixing, and entertaining purposes! You can even make these lights dimmable, adjusting the light intensity depending on the situation for which you are entertaining.
Go Minimal
Perhaps the answer to your cabinet conundrum is that less is more! Explore the design potential in minimizing your cabinets or cabinet doors. Perhaps you have a collection of stoneware or china that you want to show off to visitors, or you're proud of your extensive kitchen cookware! This provides plenty of opportunity for guests to visually explore your unique tastes and interests, sparking conversation and connection. The openness of the cabinets can also add an airy quality to your kitchen, freeing up the space and letting it breathe.
Add Class with Glass
Maybe wood or laminate cabinetry isn't what you want. Perhaps you like the design potential in using glass inserts in your cabinet doors! Glass is very versatile, giving you the option between different opacities and textures. Glass inserts can allow you to have clear glass, fogged glass, fluted glass, crackled glass, or even colored and textured glass! Couple glass inserts with interior cabinet lighting, and you could really be onto something great with your kitchen cabinet design. Our kitchen experts would be more than happy to help you brainstorm ideas for adding glass to your kitchen cabinet design!
Make it Easy with Roll-Out Shelving
On top of your kitchen looking great, you will ideally have a very functional space as well. Roll-out shelving can be the solution you're looking for, especially if you have a lot of kitchen cookware and gadgets that you need to store. Roll-out shelving allows for easy access to items that you normally would need to get down on hands and knees to reach, usually knocking over pots and pans in the process. Let your kitchen's features work for you and not against you with handy design features like roll-out shelving! You'll be thanking yourself for not neglecting functionality in your kitchen design.
Change Your Boring Old Hardware
Switching up your cabinet hardware is one of the easiest ways to quickly spice up your kitchen cabinets. This simple feature can change an outdated looking cabinet into something much more modern, with very little work actually having to be done! You may also consider getting rid of visible hardware altogether and going for a sleek, handle-free cabinet design. Fiberpol excels at helping customers come up with great ideas for cabinet hardware!
Trust Fiberpol to Help Design Your Barbados Dream Kitchen
We hope that you'll trust the design team here at Fiberpol to make your Barbados dream kitchen a reality! What starts with remodeling your kitchen cabinets could spark your creativity to make your entire kitchen work for you! Contact us today to speak with one of our kitchen design experts and to get started on your kitchen remodeling project! Our team is highly skilled in developing your kitchen vision into a plan that can come together easily! Kitchens are our passion, and we can't wait to get started working with you.