What Is DECORAN™?
DECORAN™ is a locally manufactured, solid surface, countertop material with an Acrylic Modified Polyester base, which combine to produce a stain-resistant, chemical-resistant, and non-porous countertop that is ideal for use in homes, offices and many other applications.
---
Characteristics:
½" thick
Impermeable
Very hygienic
Heat-resistant
Easy to clean
Durable
Features seamless joints
Easily Customised
Moulded sinks & drain boards
Moulded splashes & front edges
Raised cooker opening
Stain-resistant
Applications:
Our DECORAN™ Solid Surface countertop material can be used for almost any application, whether residential or commercial, including:
Kitchens
Bathrooms
Dressers
Laundry rooms
Laboratories
Boardrooms
Office partitions
Reception areas
Restaurants
Teller stations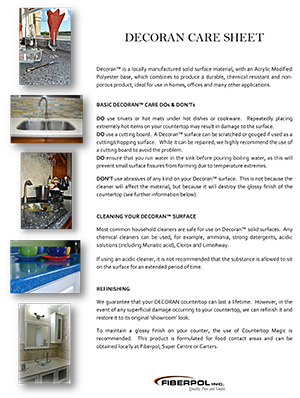 Care & Maintenance
Cleaning
To clean your DECORAN™ countertops, we recommend the use of non-abrasive liquid cleaners, such as Lime Away or Clorox. After cleaning, Countertop Magic® may be used to polish and give a low sheen to your DECORAN™ counters.
Stains
Stains from hard water (such as lime deposits) are easily removed with vinegar or Lime Away. The product should be applied and left to soak for a few minutes before thoroughly rinsing.
Hot Items
Although DECORAN™ is largely heat resistant, we do recommend that you place extremely hot items on a hot pad or trivet to allow for the free flow of air between the DECORAN™ solid surface countertop and the hot item.
Refinishing
We guarantee that your DECORAN™ countertop can last a lifetime. However, in the event of any superficial damage occurring to your countertop, we can refinish it and restore it to its original showroom look with minimal disruption to your kitchen.
---
Color Options
Greys
Pinks
Beiges/Whites
Beiges/Whites
Oranges
Blacks
Browns
Blues
Greens
EDGE PROFILES
---
Online Contact Form