We all know that the kitchen is the heart of the home. What other place in your home can claim to have hosted countless meals, guests and conversations, laughter, and love? Whether or not you're the family chef or host, you probably spend more time in your kitchen than you realize. After a while, though, you may notice that your kitchen is not serving you as well as it used to. It's important to know the difference between when it's time for a few appliance or gadget replacements and when it's time for a kitchen remodel.
The following signs indicate that it is, indeed, time for a remodel. Of course, that isn't to say you need to wait for these signs to remodel – kitchen remodels are a great home investment!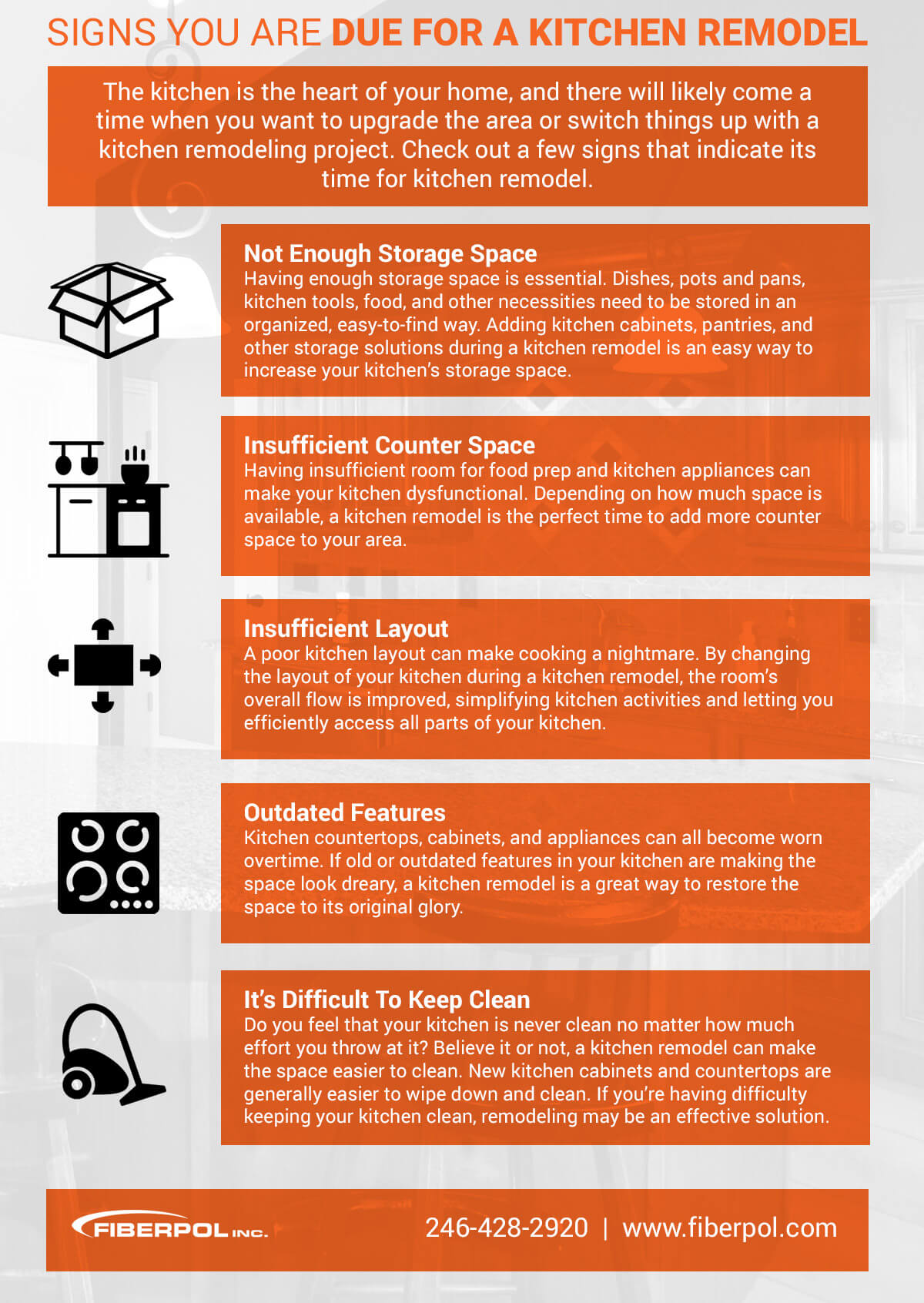 Not Enough Storage Space
One of the biggest complaints from homeowners about their kitchen is that it lacks storage space. Dishes, pots and pans, kitchen tools, food, and other necessities need to be stored in an organized, easy-to-find-way to prevent stressful situations. With plenty of options, such as new cabinets, pull-out pantries, wall-mounted pot racks, and drawers tucked into kitchen islands – there's always room to increase the amount of storage space your kitchen has.
Insufficient Counter Space
Counter space is essential in a kitchen. Not only is this where meal preparation takes place, but it is also the home for many kitchen appliances and other tools. An overflow of small appliances or cutting boards makes for an unappealing counter. Having insufficient room for food prep can make your kitchen dysfunctional.
Depending on how much space is available, a kitchen remodel is the perfect time to add more counter space to your area. Plus, you can upgrade your countertops to a style you have always wanted! Choose from granite, quartz, marble and travertine, and solid surface decoran countertops.
Inefficient Layout
You don't have to be an experienced kitchen designer to recognize that your kitchen's layout was poorly planned. When you are in your kitchen, think about how you navigate throughout the area. Do you have to go around an island just to get from the fridge to the oven? That means that your kitchen layout is not as efficient as it can be. By changing the layout of your kitchen during a kitchen remodel, a remodeling contractor can improve the room's overall flow, simplifying kitchen activities and letting you efficiently access all parts of your kitchen.
Outdated Features
An outdated kitchen can make your entire home look older. Over time, kitchen appliances, such as stovetops and refrigerators tend to break down or lose efficiency. Other features, such as countertops and kitchen cabinets can become worn and start to deteriorate over time. If old or outdated features in your kitchen are making the space look dreary, a kitchen remodel is a great way to restore the space to its original glory.
It's Difficult To Keep Clean
Do you feel like you are always cleaning your kitchen? No matter how hard you try, you just can't seem to get the job done. What most homeowners do not realize is that a kitchen remodel can, in fact, make your kitchen easier to clean. New kitchen cabinets and countertops are generally easier to wipe down and clean, and choosing eggshell paint over wallpaper or flat paint can make it a breeze to eliminate stains in a breeze. If you're having trouble keeping your kitchen clean, remodeling it might make it a lot easier.
---
Ready For A Kitchen Remodel in Barbados?
If you notice the above sins in your kitchen, it may be time for a kitchen remodel. At Fiber Pol, we specialize in kitchen remodeling, offering the best kitchen countertops and cabinets in Barbados. To learn how we can optimize your kitchen, contact our remodeling contractors today!